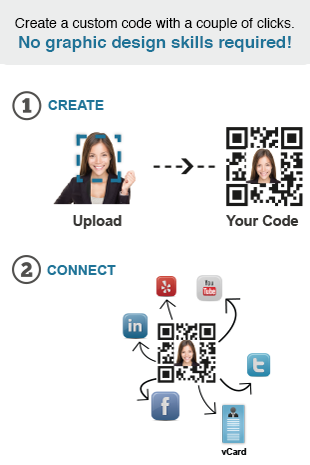 PhotoQR™ makes everything
mobile

and

interactive

.

It's your own customized code that links people anywhere online without them having to type anything!

PhotoQR makes it simple to turn your marketing interactive and quickly connect smartphones and other mobile devices to the content and information you want.
With PhotoQR:
Get the ability to change where your code links when it is scanned to keep your marketing and information current.
Update the picture or logo any time without changing where your code takes people when it is scanned.
Access Analytics showing key data about when your code is scanned and how many people are scanning it.
Choose from a Personal or Business Profile Page featuring direct messaging that can also be a hub for all your social networking sites, so it's easier to stay in touch.
Your PhotoQR code is a powerful graphic to use in print and digital media.
Creativity is the only limit.
Get Connected!
Create Your Code Now!
Already have a code? Please Login.